Latest

Posts
Warning
: Creating default object from empty value in
/home4/derok6/public_html/thunderballers/modules/mod_raxo_allmode/helper.php
on line
238
Warning
: Creating default object from empty value in
/home4/derok6/public_html/thunderballers/modules/mod_raxo_allmode/helper.php
on line
238
Warning
: Creating default object from empty value in
/home4/derok6/public_html/thunderballers/modules/mod_raxo_allmode/helper.php
on line
238
Warning
: Creating default object from empty value in
/home4/derok6/public_html/thunderballers/modules/mod_raxo_allmode/helper.php
on line
238
Written by #test | 23 February 2011



The Oklahoma City Thunder tipped off the unofficial second half of the NBA season in fine fashion last night, wiping out hometown kid Blake Griffin and the Los Angeles Clippers, 111-89. It was a great all around effort from the Thunder, who got solid production by a few players not named Kevin Durant or Russell Westbrook. This team needs everyone to contribute if they expect to make a run in the playoffs, and last night was a step in the right direction.

Jeff Green led the way with 22 points, while James Harden also had a great game with 19 points off the bench. Durant had 21 points and 8 rebounds, which is an off night for him, while Westbrook finished with 13 points and 7 assists. Both had an off night as far as field goals were concerned, shooting a combined 11-32 from the field. Thankfully, the rest of the team shot 26-46 for the night.

But nobody is talking about the action on the court. The Denver Nuggets got the ball rolling with the upcoming trade deadline by finally trading away Carmelo Anthony. 'Melo was sent to the one team he wanted to play for all along - the New York Knicks. With only a day to go before the deadline comes and goes, a few other names are expected to be on the move, yet none as high profile as Anthony.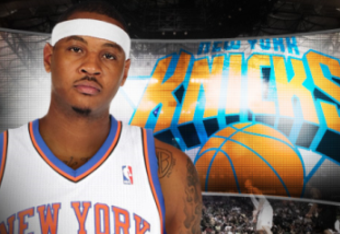 Unfortunately, I am not expecting any major movement out of the Thunder, and I'm not sure they will make a move at all, although I would love to see them acquire a big bodied defender. Expect them to stand pat, although they have a few attractive trade pieces, including Green, Nick Collison and Morris Peterson's expiring contract.

But tonight, look for the regular players who are normally in the Thunder's lineup to take on the San Antonio Spurs on the road. It is never easy to face the Spurs, especially on the road. For a look at tonight's matchup, I was fortunate enough to speak with Jeff Garcia of Project Spurs - http://projectspurs.com/ - who will guide us through tonight's huge matchup out west. After you read this interview, make sure to stop by Project Spurs to read my interview at Garcia's site at http://www.projectspurs.com/2011-articles/february/san-antonio-spurs-vs-oklahoma-city-thunder-gameday-qaa.html.

Kelley: Do you feel as if San Antonio is more or less a lock for the #1 seed in the West come playoff time?

Garcia: For as much as the Spurs have been cruising this season, they hold a six game lead over the Dallas Mavericks and with 26 more games remaining on the Spurs schedule, I am not ready to say they are a lock.

Dallas, which is the Spurs biggest threat right now, has been playing at a high level despite losing Dirk Nowitzki for some time and losing Caron Butler for possibly the season.

An injury here, a bad couple of games for the Spurs and Dallas is knocking on the door of the number one seed.
This Spurs team cannot rest on their laurels. They have to play as if they are tied with Dallas in the conference. If they do that then the number one seed is theirs if it's not already.
Kelley: Much has been said about Tim Duncan being named to the All-Star team. What are your thoughts?
Garcia: I honestly felt Tony Parker should have made it over Duncan. Even Duncan
said it
,
"I wish Tony (Parker) could be here. He deserves to be here, he's had an excellent year so far. I think if he can grow a couple of inches the next couple of days, I'd trade (spots) with him."


In the end, it just made sense to add Duncan. Yao Ming couldn't play, leaving a gap at center for the West squad.
Kelley: Manu Ginobili is having a career year of sorts. Can he keep up this pace into the postseason?
Garcia: That my friend is the big question. The Spurs are a Manu Ginobili ankle injury away from derailing any momentum heading into the playoffs.

They go, as he goes.

He does have a history of injuries and with his style of play, every game is nerve-racking for Spurs fans.
However, the summer rest, deciding not to play for Argentina at the Worlds, seeningly has paid off for him and knowing Manu, he can and will play at this pace if it means hoisting another NBA trophy in June.
Kelley: Will the Spurs be involved in any trade talks over the next day or so?
Garcia: Highly doubtful. Right now the Spurs main needs are depth in the middle, and perimeter defense. There was
a report
they were interested in Cavaliers' Anthony Parker but my initial reaction was to think "pass." He is old, slow, and cannot play defense.

Basically, the Spurs do not have any players to dangle and the players another team will want, I doubt the Spurs will offer. Players like George Hill, DeJuan Blair, Gary Neal, etc. are enticing for other teams but that would mean squandering the Spurs future.
If anything, they will add some player off waiver wires. However, there have been reports Blazers' Joel Pryzbilla would seek a buyout or retire if traded. If the Spurs can manage to get him then that would be a tremendous pick up.
Kelley: Can this current Spurs team dethrone the Lakers in the West? If so, how?
Garcia: Yes! The Spurs have beaten LA twice this season but it won't be easy. The Spurs have better depth at the point guard position with Parker and Hill. We all know quick guards cause havoc for the Lakers. Also, the Spurs bench is better in comparison.

Another point is the Lakers look tired. To lose to the Cavaliers like they did exposes a huge chink in their armor. That chink being this LA team has issues on the court. Artest isn't Artest anymore, Bryant is playing hurt and is a step slower, Barnes has been out with an injury and recovering from surgery, and Fisher will not be able to contend with Parker and Hill.

But like I said it will not be easy.

Kelley: Predictions for tonight's game?

Garcia: Spurs and Thunder game have been pretty much one-sided this season with the Spurs beating them twice. Since this is a home game for San Antonio, and the Spurs seemingly having the Thunder's number, I'm going to go with Spurs getting the win.

I would like to thank Garcia for his time, but we will of course have to agree to disagree regarding tonight's outcome!

* Make sure to follow Kelley on Twitter @RobKelley24...
Beat the
NBA odds
this winter when you rely on the
NBA picks
offered by top experts.
More

from Thunderballers
Warning
: Creating default object from empty value in
/home4/derok6/public_html/thunderballers/modules/mod_raxo_allmode/helper.php
on line
238
Warning
: Creating default object from empty value in
/home4/derok6/public_html/thunderballers/modules/mod_raxo_allmode/helper.php
on line
238
Warning
: Creating default object from empty value in
/home4/derok6/public_html/thunderballers/modules/mod_raxo_allmode/helper.php
on line
238
Warning
: Creating default object from empty value in
/home4/derok6/public_html/thunderballers/modules/mod_raxo_allmode/helper.php
on line
238
Warning
: Creating default object from empty value in
/home4/derok6/public_html/thunderballers/modules/mod_raxo_allmode/helper.php
on line
238
Warning
: Creating default object from empty value in
/home4/derok6/public_html/thunderballers/modules/mod_raxo_allmode/helper.php
on line
238
Warning
: Creating default object from empty value in
/home4/derok6/public_html/thunderballers/modules/mod_raxo_allmode/helper.php
on line
238
Warning
: Creating default object from empty value in
/home4/derok6/public_html/thunderballers/modules/mod_raxo_allmode/helper.php
on line
238